Corsair
Introduction
Corsair is a game for the Atari Falcon030, released by Impulse in 1997.
System requirements: Corsair requires 4Mb RAM and works on both RGB/VGA monitors and TV (RGB is recommended). It is compatible with 68040 and Nemesis.
Techical details:
Graphics resolution: 320*240 in 16-bit HiColour
Programmed in Motorola 68030 assembly language (over 25000 lines of code)
Handdrawn graphics
Four-channel music and sound effects
Gameplay
Cool action game for two players! Annihilate the aliens! Peace through superior firepower! Your mission, if you choose to accept it, is to defend an ancient computer against the alien beings on the moon. The fate of computer history is in your hands.
The game itself is probably best described with the screenshots below. Two players control the two cannons and shoot the aliens. Each cannon can fire straight forward and a 45 degree shot towards to other player. This is because the enemies will, unless destroyed, land on one of the rails and continue towards the cannon on that rail. That player is now helpless and must be rescued by a 45 degree shot by the other player. However, they must cooperate well so that not both have an enemy on their rail.
Also see short video with basic gameplay.
Features
6 different types of enemies: Landers, Drunken Landers, Railcrawlers, Jumpers, Stealth bomber, SETI man
Large end-level boss – the Big Bobby!
Handdrawn graphics
Four-channel music and sound effects
Supports keyboard + joystick + Jaguar pads
Widescreen mode available
Manual
Full manual is available in English and Spanish.
Reviews are also available.
Download
Download (410 kb)
Creators

Mandus and Reine after completing
the final testing phase in 1997.
Reine Larsson – Programming, design, manual
Mandus Skön – Graphics, design
Peter Gustavsson – Menu music
Steffen Scharfe – Mod player
Gameplay Video
Intro menu and basic gameplay with sound.
Screenshots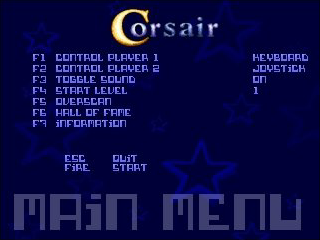 The Main Menu.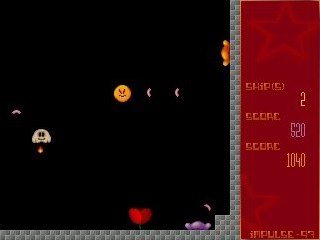 Bobby the Hippie Ghost (evil bomber) and his partner in crime, Mr Ken!


The Water World. Beware of the lethal jelly fish!


Here they come, the Pigs In Space!


Hall of fame.